What is Recess?
Recess is a marketplace platform that enables event organizers to promote their events and land brand sponsors. Think of us as the Airbnb for event sponsorships. On one side, we have event organizers listing their events (the Airbnb homes) and on the other, we have brands that are looking to purchase sponsorship opportunities at those events (the Airbnb guests).
Below, we will walk you through the step-by-step process of how to use Recess to promote your events and secure sponsors.
Setting up your first event
To begin promoting events, first you'll have to create a Recess account for free. Fill in your email and password then complete your profile with your name, phone number, and company/organization.
Input Event Details
After completing your profile, on the next page, fill out your main event information:
Name of the event
Be as descriptive as possible.
Is your event in-person or virtual (live streamed)?
If your event is virtual, please also select what platforms your event will be streaming on
Event types
Categorize your event using one or multiple event types.
Brands use this information to filter events, so be as specific as possible.
Main description
Use this opportunity to sell your event. Add important details that would entice a sponsor including activities going on, demographic information and types of sponsors you're looking for.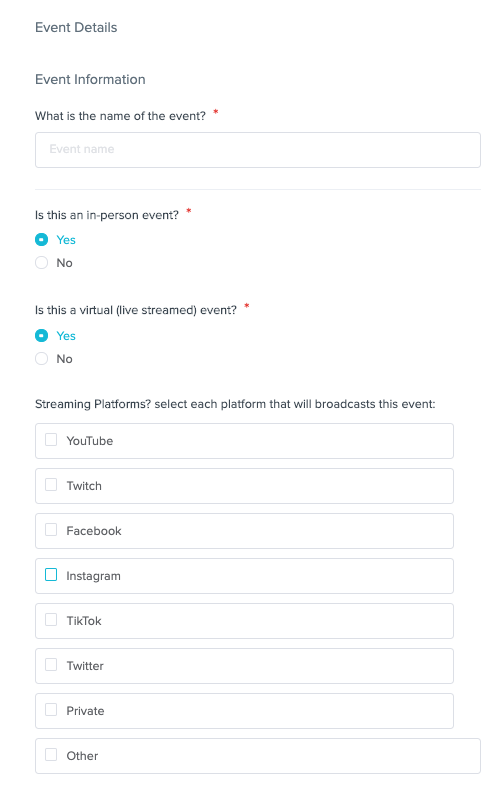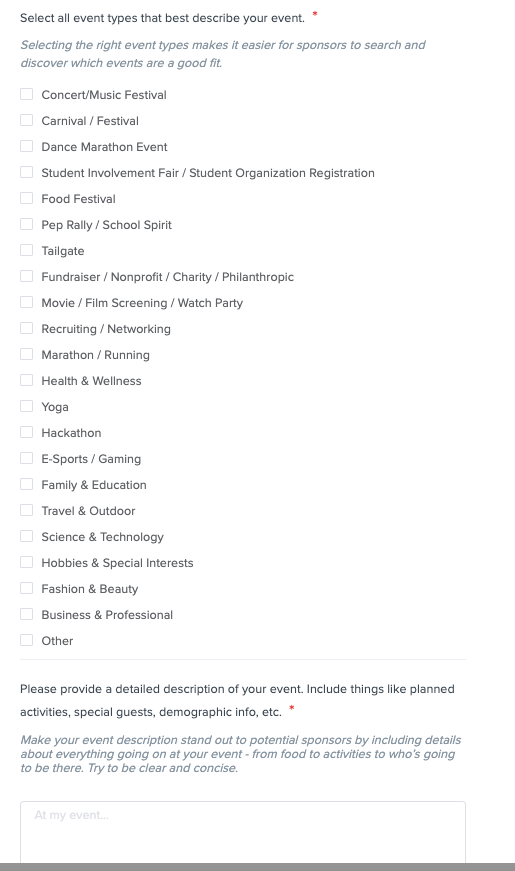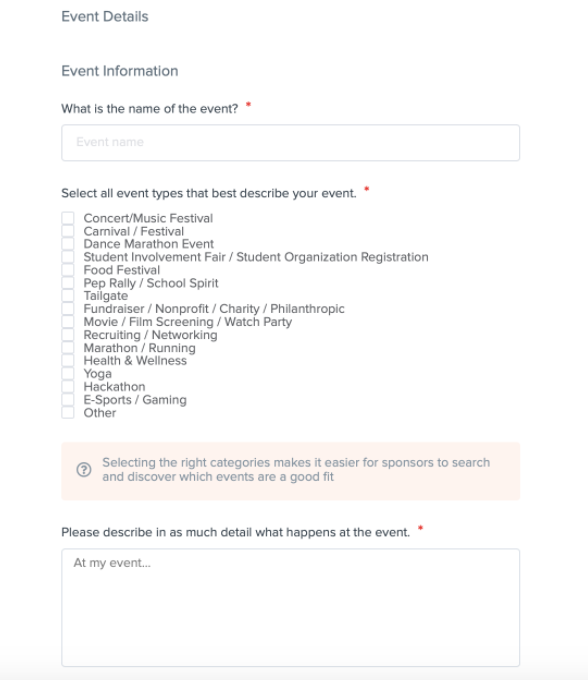 On the following page, fill out the schedule for your event:
Day/time that the event starts and ends
Indicate only the time frame in which sponsors will be on-site.
Event frequency
Monthly, annually, etc.
Confirmation of your event
We recommend that you publish only confirmed events. If your event is not 100% confirmed, select no and update the date when it's confirmed.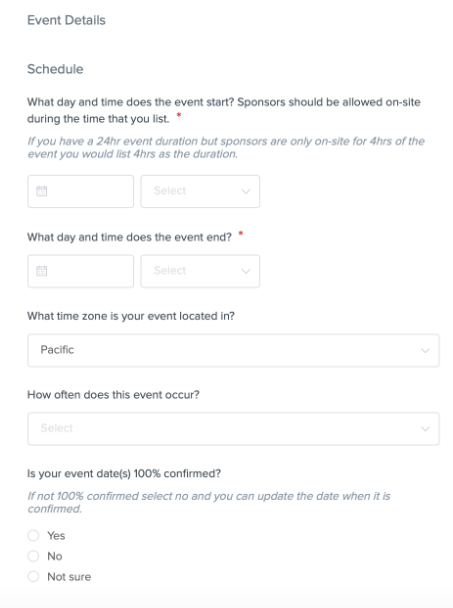 Next, fill out your attendance details.
If your event is virtual, you will fill out the number of live streamers you are anticipating
Use a conservative number to set expectations with your sponsor(s).
If your event is in-person take the average of attendance from past years, including lowest attendance figures.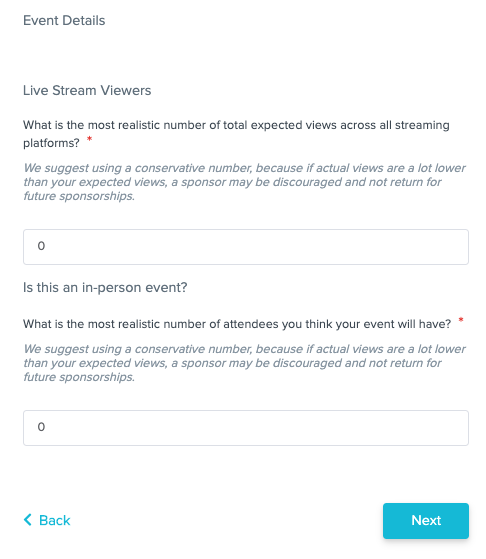 Then, fill out your location details.
Name of the location where the event takes place (i.e. Smith's Ballroom).
Event address
Google Maps will appear and show the exact location of your event.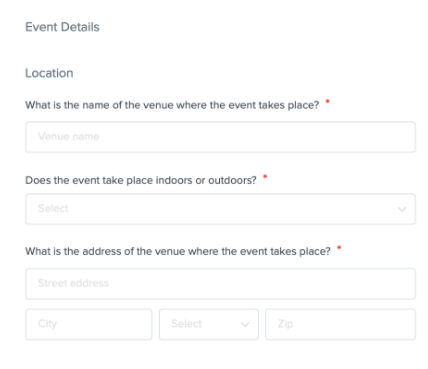 Promote your sponsorship inventory
Add available sponsorships
Now that you've entered your primary event information, fill out the details of your available sponsorships.
If your event is virtual, this would be a native integration where brands get a shoutout, product placement on screen, social media posts, and/or a link in the event description promoting the partnership. If your event is in-person, this space is where brands can set up their booths for their activation.
Live-Stream Native Integration
Enter in a price for a brand to natively integrate into your live stream event.
Physical on-site space
Indicate if sponsors can purchase on-site space at the event for a booth or event activation.
Choose the size(s) of your available sponsorship space(s)
Recess has created an algorithm, based on historical proprietary data, to provide a suggested price for your space. All of our numbers have been vetted and are comparable to market rate. (Note: This suggested price is meant as a guide for what we think your space is worth, you do not have to use the suggested price.)
Be specific about the space and how to access it.



Next, fill out the details of any food trucks or trailers.
Physical on-site space
Set the prices for your space
You only have to provide the sponsorship space, not the truck or the trailers.
Be specific about the space and how to access it.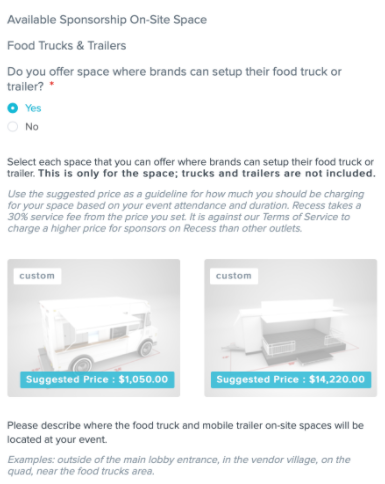 On the next page, fill out your available media sponsorships
Video content
If you have a stage, refer to the media guide on screen for available inventory.
If you have media inventory, indicate peak inventory with a fixed rate.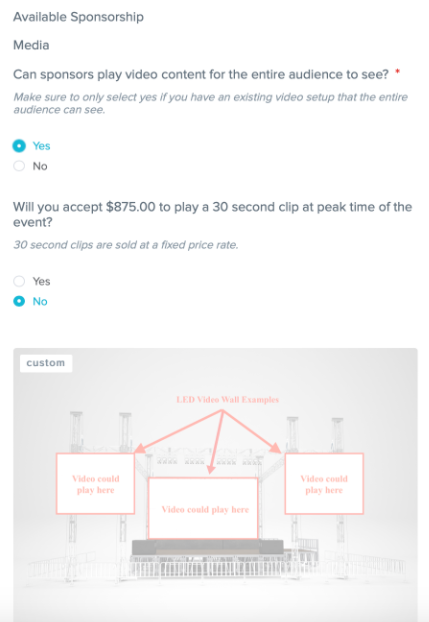 Finalize event details
Finalize & publish your event
On the next page, enter the main point of contact for your event.
Enter as many members of your team as needed.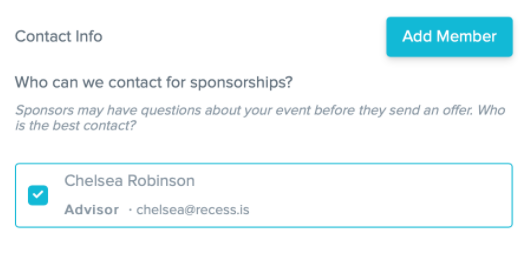 Publish your event to the Recess platform for all brands to see.
Your event has been finalized and the event checklist is complete.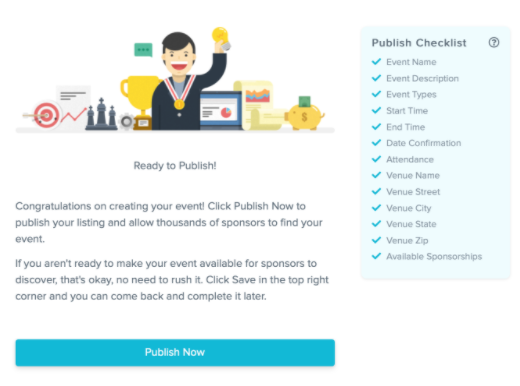 Enhance your event listing
Add marketing enhancements
Now that your event has been published, use marketing enhancements to make your event stand out to sponsors.
Upload photos of your event to show sponsors the vibe.
Indicate if on-site sales are allowed.
Detail the brand's options for lead generation.
Indicate if food and/or drinks can be distributed at your event.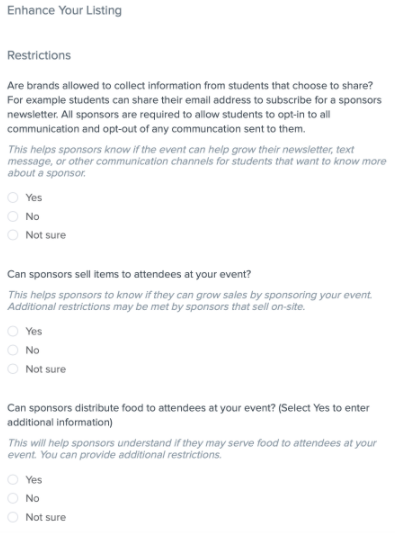 Reviewing offers
All offers will be sent and negotiated through the Recess platform. Refer to the "Offers" tab on the left navigation pane of the Dashboard to view your pending offers for all events and to review accepted offers.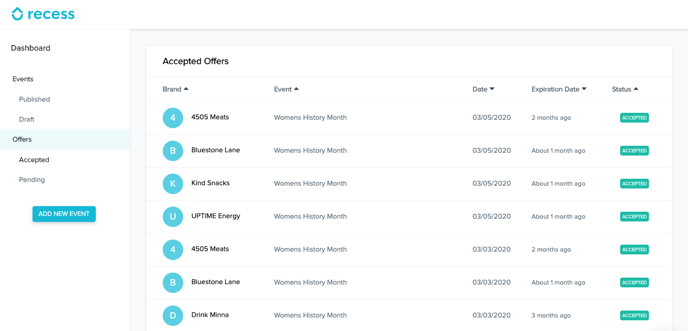 More questions? Visit the Help Center for FAQs (frequently asked questions) on promoting your events with Recess.